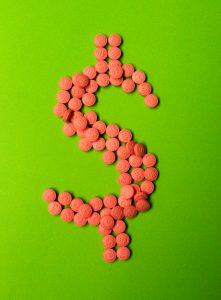 A drug manufacturer will repay the Government $ 28.8 million for promoting off-label use of one of the most expensive drugs in the world.  Aegerion Pharmaceuticals also pled guilty to failing to give complete and accurate information about how to diagnose the medical condition that the drug was supposed to help.
Three former employees filed suit under the False Claims Act saying that Aegerion Pharmaceuticals, Inc. was encouraging doctors to use a drug called Juxtapid for uses that were not approved by the FDA. It's a good thing that whistleblowers stopped this one; at $300,000 a year, Juxtapid is one of the most expensive drugs on the market.
The whistleblowers said that Aegerion made false and misleading statements to doctors in order to convince them to prescribe the drug for off-label use.  Because the FDA was concerned about side effects, it had only approved the drug for patients with a very rare condition, homozygous familial hypercholesterolemia.  HoFH, as it is known, is hereditary, and leads to very high levels of the bad kind of cholesterol, early-onset cardiovascular disease and a low life expectancy.  Fortunately, the condition also is rare; only 1 in a million people have HoFH.
The whistleblowers also said that Aegerion was getting doctors to falsify statements of medical necessity so the drug would be reimbursed by the government. According to the False Claims Act complaint, Aegerion employees even inserted fake cholesterol levels, medication history, and clinical history into the doctors' prior authorizations.
This Fraud Was Costly to Both Medicare and Patients
The unapproved use of this drug was especially serious.  Financially, of course, overusing the drug had very serious consequences – quickly — for Medicare and Medicaid. Medicare and Medicaid have to watch drugs like this one carefully; at prices like this, even a small quantity of fraudulent prescriptions can quickly add up to millions of dollars.
But even more importantly, in this case the over-prescription of the drug was dangerous for patients.  Because it was concerned that Juxtapid could cause serious side effects such as liver damage, the FDA approved the drug with conditions – a REMS, or risk management plan. For example, before they prescribed Juxtapid, doctors had to perform lab tests and assess a patient's liver condition.  The doctors had to continue to monitor the lab results and liver condition as long as the patient was on the drug.
The Department of Justice said that Aegerion had bypassed those requirements when it pushed the drug for off-label use.  According to FDA Commissioner Scott Gottlieb, M.D.:
By failing to follow the safety requirements that Aegerion had agreed to, the company put patients' lives at risk and didn't honor the safety commitments they made as a condition of gaining approval for their drug. This is unacceptable. We will continue to pursue those who skirt the law, and flout patient safety and other post-market commitments, using all of the enforcement tools available to us. Post-market safety requirements are a key element of FDA's public health protections and we will ensure that they are fulfilled.
The Whistleblowers Will Be Paid $5.5 Million
Under the False Claims Act, relators (the legal term for whistleblowers) are entitled to between 15% – 30% of what they help the Government recover.  The three whistleblowers in this case will be splitting $5.5 million for their role in bringing the FCA suit for off-label use of Juxtapid.
Aegerion will be making its payment over a three-year period.
Who Were the Whistleblowers?
The whistleblowers were Michele Clarke, Tricia Mullins, and Kristi Winger Szudlo.  All three whistleblowers were experienced in the pharmaceutical, biotech, or heath care industries before they went to work for Aegerion.